Welcome Home to Your Pet-Friendly Estates at Heathbrook Apartment!
The Estates at Heathbrook is a fabulous apartment community not only because of our amenities like our resort-style oasis pool, club class fitness center, and sand volleyball court, but also because we are pet-friendly! We love seeing our furry four-legged residents around the community. If you're thinking about adopting a dog in the Ocala, FL area, we've rounded up a few listings for you to browse. If you're searching for a vet for your pooch, we've also found a listing in nearby Summerfield.
If you have questions on our pet policy, feel free to give us a call at 877.664.5143!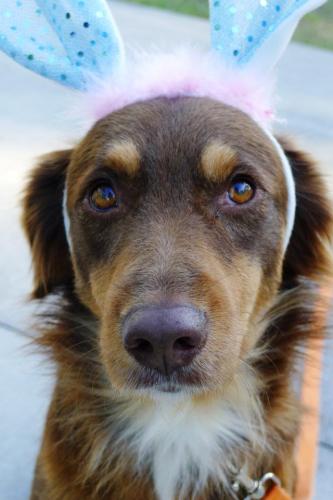 Pet Name: Tawny the Loving Aussie
Breed: Australian Shepherd
Age: Adult
Male or Female: F
Size: M
Meet Tawny, a 4-year-old female Australian Shepherd available for adoption through Adopt A New Leash On Life. Sweet and shy, Tawny would very much like to be a lap dog, despite weighing 40 lbs.! lol She is loving and gentle-spirited, and wants nothing more than to gaze adoringly into your eyes. Really! Did I mention Tawny's eyes? They're the most lovely amber color. And she just loves her humans! Tawny does fine with other dogs, but she thinks humans are the best thing since canned dog food. She likes to ride in the car, does well on the leash, and is crate- and housetrained. Tawny is currently being fostered in my Ocala-area home. Her adoption fee is $250. If you think you would like to give this lovely girl a forever home, contact me at Amy.NewLeash@gmail.com. We do not have an adoption application but instead rely upon on interview process. At a minimum, please share such things as where you live, household composition, yard setup and/or exercise plan, pets you have and/or had, work schedule and amount of time the dog would be alone, what contingency plans you have in place should you no longer be able to care for your dog, if you rent do you have landlord approval, what you are looking for in a dog, etc. The more information the merrier. And there are no "right" answers. Honest! Please include a phone number at which you may be reached.
View this pet on Petfinder.com
---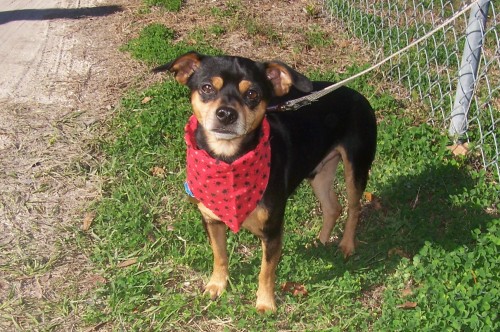 Pet Name: Curly
Breed: Chihuahua
Age: Adult
Male or Female: M
Size: S
We really cant understand why, but this precious little twelve pound Miniature Pinscher/Chihuahua mix was dumped. That's right, dumped!. One afternoon a wonderful, kind hearted lady just happened to be looking out her window when she noticed a car pull up and toss poor curly out into her yard. As they took off Curly bolted after them . Seeing all of this she decided to get into her car and chase them. After about a mile and a half poor Curly just couldn't go any further and gave up. What could he have possibly done to deserve that?.The kind lady then picked him up and took him home. Well that was then and this is now. He has been to the vet and now has a clean bill of health. The doctors figure he is just about four years old. This handsome boy is a true treasure he is very affectionate and loving. He gets along great with his k-9 buddies as well. Do you have room in your heart and home for darling Curly? Adoption donation $150.00
View this pet on Petfinder.com
---
Pet Name: Zeb
Breed: Border Collie
Age: Adult
Male or Female: M
Size: M
This dog is being fostered by a friend of mine. He is not with Starfish BCR. He is located in Ocala. If you are interested in adopting him, please email me at mary@starfishbcrescue.com and I will put you in touch with her. This is what she had to say about him:I took this nice boy in because he was spending all of his time in a stall with nothing to do and all by himself. He is very sweet and on the big side. I have him on a diet as he is way too fat. He is started on the sheep and listens very well. I think a home with older children ( maybe 10 and up) would be best since he is very exuberant and may hurt a smaller child by accident. He is 2 years old and doing well in the house and in his crate. He would like to play 24-7 if he could. He is very loving and sweet and I think an active home with another friendly dog would do well for him. He just needs direction and exercise. He is neutered, up to date on all shots and heartworm negative. His adoption fee is $200.
View this pet on Petfinder.com
---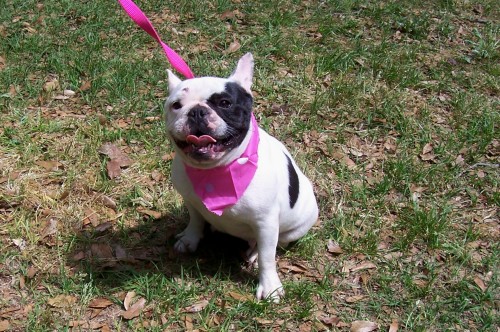 Pet Name: Gracie
Breed: French Bulldog
Age: Adult
Male or Female: F
Size: S
Absolutely adorable with a huge personality. This darling girl was born June 14, 2008 and she weights all of twenty two pounds. She is a true little sweetheart with a horrible past. Fortunately we were able to get her and she will never have to have another litter of pups. This poor baby has had to work overtime having pups for lousy breeders in one home after another. Living in deplorable conditions with no life at all. Well that was then and this is now and we have told her that she will never have to live like that again She has been spayed and given a clean bill of health. All she needs now is a wonderful family to come scoop her up and show her the live she has never had. Would you like to be that new family? Adoption donation $600.00
View this pet on Petfinder.com
---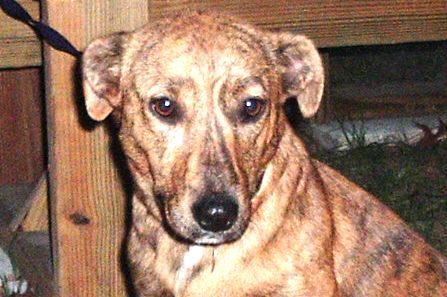 Pet Name: Kiwi
Breed: Corgi
Age: Adult
Male or Female: F
Size: M
This sweet, thirty eight pound, gal is as good as it gets!! Born Febuary, 2004 Adoption donation $85.00.
View this pet on Petfinder.com
---
---
Source: Yelp
Name: Country Oaks Veterinary Clinic
Location: 13938 S US Highway 441 Summerfield, FL 34491
Reviews: 1


Link: Read the Yelp.com Review
More Reviews
This is a fabulous facility. We've been taking our dog for several years now. The staff is attentive and caring. The prices are very reasonable. Trustworthy…Read More…
Country Oaks Veterinary Clinic

---